Testimonials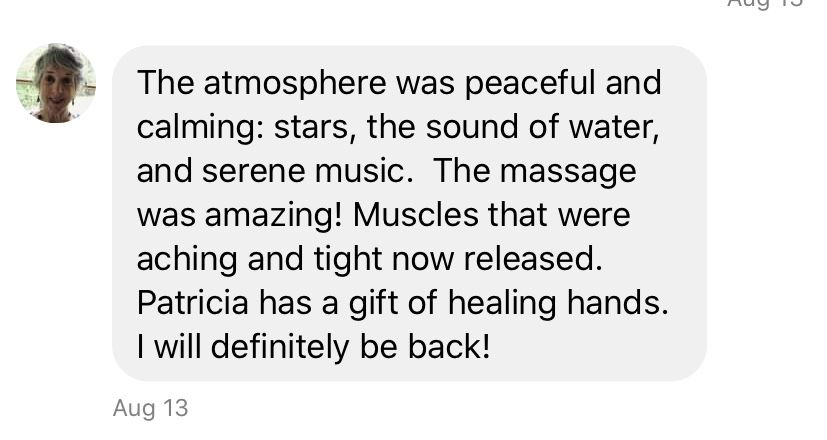 April D---
"The massages I received while I was battling colon cancer helped me tremendously to relax and just feel so much better. Understand the chemo made me hurt all over!!! I am so grateful for the many hours she dedicated to helping me feel better. Patricia Froneberger also demonstrates such a tremendous level of love for helping others with grace and professionalism that was and is outstanding! After your very first appointment you will want to have standing, regular appointments to keep your body detoxified from the stresses and pain caused from everyday living! As a Massage Therapist, Patricia will be able to assess then recommend types and frequencies of what best massage(s) suit your needs. Don't wait too long, because this young lady has a gift, and she truly cares about people! Be sure you tell her April Dickson sent you!"
--------------------------------------------------
Chandra G----
I finally got a massage from Patricia Marie Froneberger and it was amazing! The atmosphere of the room that she has set up where you get your massage at is so calming and relaxing. She has a projector that puts little stars on the ceiling. She has candles all around the room. The music that she plays is so peaceful. The essential oils in the room helps you feel soothe as well. After the massage my whole body felt so relieved from all the tension that I have been dealing with for years. I wished I would have got a massage from her when I was pregnant with my son Finn and after I gave birth. Because that's really when my body was hurting from everything. But anyways after my massage I felt so relaxed. Patricia really knows what she is doing. I highly recommend everyone get one from her and you wont regret it. You will be thanking yourself for getting one. I know everyone has been stressed about how this whole year has been going. I know I have and that just added more tension in my body but mostly my upper back and shoulders. She released that pain right away! She has amazing prices for everything she does, so what are you waiting for? Go book you appointment right away!
-------------------------------------------------------
Holly P----
Patricia is amazing! Very through, deep tissue pressure is great! Hot stones on hand also make it an awesome experience! Thank you!!
--------------------------------------------------------

Brooke A----
Excellent, Highly recommend!
---------------------------------------------------
Christen H----
Patricia is an excellent Massage Therapist, I have seen a lot of therapists over the years and she provides a great service at a very reasonable rate. She is a professional business woman who is clearly striving to meet her customers needs!
----------------------------------------------------------